[View My Guestbook] [Sign My Guestbook]
2 books in case 1 isn't working :0)

Thank you!



Would you like to see my awards and gifts my owner's been given?

Click on me!


What page you like to see now?
Home/ Teddy Bear History/ My Adopted Bears/ My Bear Globes/
Beary nice Poetry/ Beary nice Links/ Beary yummy Recipes/
My Adopted Angels/ Beary Good Causes/ Missing Children/ Banner Exchange
Beary nice Webrings/ Beary sweet Awards/ Win my "Beary Cozy Home" Award/

Did you like my Bear Den? Please tell a friend about it! Thanks! :0)

Well, friends, we've reached the end of the den...
I've enjoyed giving you my beary grand tour! Please bookmark
this site and come back anytime,,,you are beary welcome!

Love, Baby Bear

If you enjoyed your visit, please vote for me ... Thanks, friends :0)

Special Thanks to

midi by Gendron Design Desk
Guestbook Courtesy of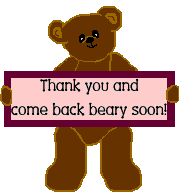 My Bear Den ~ A Beary Cozy Place Created by Sandi, 2000


I'm beary glad you came to see me today,
and hope you will come see me again sometime!
Without my friends, my den wouldn't be half as cozy.