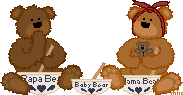 Here is Papa Bear and Mama Bear...
Where has baby bear gone?

Let's follow his pawprints!















Here I am!

Sorry Mama, hope you weren't beary worried!
I was waiting here to show our friends my
favourite links!

Here they are!

*Baby Bear's Fav Links*


Teddy Bears On The Net

Teddy Bear Store Directory

Teddies Bulletin Board

Teddy Bear Island

Send a Teddy Greeting

Bearly a Page

Teddy Care, A Great Site

Love Note Bears

Teddy Bear Internet Directory

Cuddly Greeting Cards

Tedd E's Journey for Breast Cancer

Melanie's Heartspun Collections

Camille's Country Graphics

Graphic Garden
Where to next?

Back/ Home/ Teddy Bear History/ My Adopted Bears/
My Bear Globes/ Beary nice Poetry/ Beary nice Links/
Beary yummy Recipes/ My Adopted Angels/ Beary Good Causes/
Missing Children/ Banner Exchange/ Beary Nice Webrings/


Don't forget, I'd love to hear from you,

Just click on me to send e-mail!

Or sign my guestbook if you will!
[View My Guestbook] [Sign My Guestbook]
Are we having fun yet? If so, please vote for me here :0) Thanks!

Special Thanks to

Midi by Gendron Design Desk





www.teddybearsearch.com