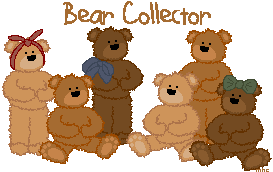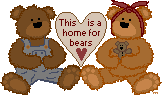 Hi! I'm beary glad you came!
I'd like to introduce you to some of my pals
who my owner adopted,
and they live with me now!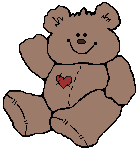 (That guy on the right is a real smartie-pants! :0)

He's still pretty shy

And this girl just thinks us guys are silly!

All of my friends were so lonely,
but now they live with me and we are all a happy family!

* More to come ~ There's always room in the den for friends!

My owner adopted my friends at GG & Jeanne's Adoption Centre!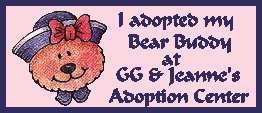 Do you have any room in your Den for some new friends?

There are lots of beary loveable bears waiting to fill
your home with lots of love and bear hugs!
All they need is you! Just go see the nice ladies at
My friends make me beary happy!


~ Even happier than all the honey in my den! ~
Awards? (hint hint) Hee Hee!

Leave your pawprint here if you like!
[View My Guestbook] [Sign My Guestbook]


Where to now?

Back/ Home/ Teddy Bear History/ My Adopted Bears/ My Bear Globes Beary nice Poetry/ Beary nice Links/ Beary yummy Recipes/ My Adopted Angels/ Beary Good Causes/ Missing Children/ Banner Exchange/ Beary nice Webrings/ Beary sweet Awards/ Win my "Beary Cozy Home"Award

Special Thanks to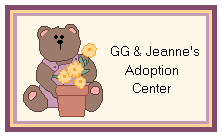 Midi By Gendron Design Desk
Guestbook courtesy of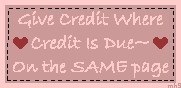 See you beary soon! (((Hugs)))

My Bear Den ~ A Beary Cozy Place Created by Sandi, February 2000