History of the Teddy Bear



As told by Me, Baby Bear, (an expert on the subject!)

Once upon a time, in 1902, Richard Steiff designed and created the world's 1st Teddy Bear. This bear was made of mohair and had moveable arms and legs (like me!)

Rin ichard Steiff was an art student in Stuttgart, and he just loved bears. He fell love with a young bear family at Nill's Animal Show in 1897,(how could he not?) and spent weeks studying them and practicing his sketches of them.



wasn't Margarete Steiff, Richard's Aunt, was a felt toy manufacturer. She sure if Richard's idea would be successful, but Richard made the bear anyway, and took it to the Leipzig Fair in 1903. Only one person liked the bear; an American toy buyer from the Borgfeldt Company in New York City. He ordered 3000 bears from Richard. After being shipped, the bears disappeared, and unfortunately there was not a single prototype of that bear in the Steiff Museum. (not beary good news) :0(

Later that same year, Teddy Roosevelt travelled to the woods of Mississippi on a bear hunt. Several days went by, with no bears in site, then one day the expedition guide chased a baby bear cub out of the brush. Mr. Roosevelt did not have the heart to shoot it, and instead, sent it back to it's Mother. Phew! I'm relieved...



As luck would have it, on this expedition was the Washington Post's famous political cartoonist, Clifford Berryman. He was so moved by the President's kind gesture that his cartoon, upon returning, was one showing the President refusing to shoot the baby cub. From that time on, each time the President was featured in a cartoon the little bear was with him, and fondly named "Teddy's Bear". (that's me!)



In 1906, Richard Steiff was invited to the White House to attend the wedding reception for Teddy Roosevelt's daughter. As the guests arrived, they found Steiff bears on each table, dressed as hunters and fisherman...a theme chosen because of the President's reputation as an outdoorsman. When Mr. Roosevelt admitted that even as a bear "expert" he couldn't name the breed, a guest spoke up and said "They are Teddy's Bears, of course"...


Ever since then, this has been the name for us....the Teddy Bear.
And all the Teddies lived happily ever after..
~The End~
Source: Never Grow Up ~
I'd be beary pleased if you'd send me an e-mail!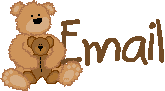 or leave your pawprint!


Where would you like to go now?

Teddy Bear History/ My Adopted Bears/
Bear Globes/ Beary nice Poetry/ Beary nice Links/ Beary yummy recipes/
Beary Good Causes/ Missing Children/ Banner Exchange/

Special Thanks to
Thanks to www.guestpage.com


*click to support H.I.R. on the web*


See you soon! (((Hugs)))

My Bear Den ~ A Beary Cozy Place Created by Sandi, February 2000