Hello, I'm Mama Bear, Welcome to my Country Kitchen!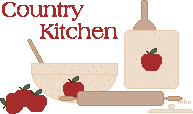 You're probably ready for your second cup by now! Grab your tea and I will share my "Beary Nice Recipes" with you! Print them out if you like 'em!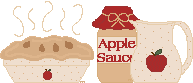 The following are all yummy chicken recipes...
(which explains the "Chicken Dance" song you are hearing!) :0)
These recipes, and lots of other chicken recipes, can be found at

*ENJOY!*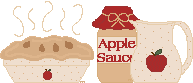 Busy Day Chicken Rice Casserole
Ingredients:
1 (10.75 ounce) can condensed cream of mushroom soup
1 (10.75 ounce) can condensed cream of celery soup
1 cup water
1 cup uncooked long grain rice (not instant)
1 (4.5 ounce) can mushrooms, well drained
garlic powder to taste
1 (1 ounce) envelope dry onion soup mix
6-8 chicken pieces (of your choice)

Directions
Preheat oven to 325 degrees
In a large bowl, combine the mushroom soup, celery soup, water, rice, mushrooms, garlic powder and black pepper. Mix together. Pour mixture into a 9x13 inch baking dish and spread on bottom.
Lay chicken pieces over soup mixture and sprinkle dry onion soup mix over it. Cover tightly with foil and bake in a preheated oven for 1 to 1 1/2 hours, or until chicken is cooked through and no longer pink inside.

Makes 6-8 servings...Enjoy!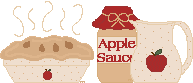 The Best Chicken Ever
Ingredients:
6 skinless, boneless chicken breasts
4-6 cups sour cream (low fat!)
2 cups cornflake cereal, crushed
seasonings to taste
6 tablespoons melted margerine

Directions:
Preheat oven to 350 degrees
Rinse and trim the chicken breasts. Pat dry. Generously coat both sides of each breast with the sour cream. Put crushed cornflake crumbs in a shallow plate or bowl and season to taste. Dip the sour cream coated chicken in the seasoned cornflake crumbs.
Place coated chicken in a lightly greased dish and drizzle with melted margerine. Bake in a preheated oven for 1 hour.

Makes 6 servings...Enjoy!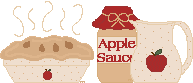 Baked Teriyaki Chicken
Ingredients:
1 tablespoon cornstarch
1 tablespoon water
1/2 cup sugar
1/2 cup soy sauce
1/4 cup cider vinegar
1 minced clove of garlic
1/2 teaspoon ground ginger
1/4 teaspoon ground black pepper
12 skinless chicken pieces, your choice

Directions:
Preheat oven to 450 degrees
In a small saucepan, combine cornstarch, cold water, sugar, soy sauce, vinegar, garlic, ginger and ground black pepper. Stir all together and heat to simmer, let simmer until sauce bubbles and thickens.
Place chicken pieces on a lightly greased baking dish. Brush chicken with the glaze. Turn pieces over and brush again, coating both sides.
Bake in a preheated oven for 30 minutes, brushing every 10 minutes with glaze. Turn pieces over and bake for another 30 minutes, brushing occasionally with the glaze.

Makes 6 servings...Enjoy!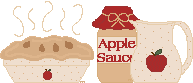 Angel Hair Pasta with Peppers and Chicken
Ingredients:
1 teaspoon olive oil
1 tablespoon minced garlic
1 large red pepper, cut into thin strips
3/4 cup sliced water chestnuts
1 cup fresh Chinese pea pods
1/2 pound sliced smoked deli chicken
1 tablespoon onion powder
1/4 teaspoon ground black pepper
salt to taste
1 cup chicken broth
1 pound angel hair pasta, cooked and drained well

Directions:
In a large skillet, heat olive oil to medium high heat. Add the garlic, bell pepper, water chestnuts and pea pods. Reduce heat to medium low and cover. Cook for 5 minutes.
Cut chicken into thin strips, appr. 1/4 inch wide. Add the chicken, onion powder, ground black pepper and salt to the skillet. Cover and cook for 5 more minutes.
In a separate small saucepan, heat the chicken broth to a near boil.
Pour the hot broth into the vegetable/chicken skillet. Toss and serve mixture over cooked angel hair pasta immediately.

Makes 6 servings...Enjoy!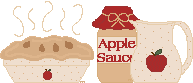 Easy and Delicious Chicken
Ingredients:
4-6 chicken breasts
1 (8 ounce) bottle Italian-style dressing (fat free)
1 (10.75 ounce) can condensed cream of chicken soup
1 cup chicken broth
1 (8 ounce) package low fat cream cheese
1/2 teaspoon dried basil
1/2 teaspoon dried thyme
salt and pepper to taste

Directions:
In a slow cooker, combine the chicken breasts and the Italian dressing. Cook on low for 6-8 hours. When chicken is tender, drain most of the dressing and discard. Shred the chicken meat and return to the slow cooker.
Combine the soup, broth, cream cheese, basil, thyme, salt and pepper. Pour mixture over the chicken and in the slow cooker and cook for 1 more hour on low. Serve over pasta or rice if desired.

Makes 4-6 servings..Enjoy!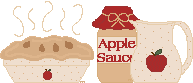 Well, friends, there's my favourite chicken recipes! Have to run now, I hear my cubs calling me! :0)

Remember, if you would like more delicious chicken recipes, just visit

BEARY HAPPY COOKING TO YOU!



We'd love it if you sent an e-mail!


Or sign our guestbook :0)

Where should we go next?
Back/ Home/ Teddy Bear History/ My Adopted Bears/My Bear Globes/
Beary Nice Poetry/ Beary nice Links/ Beary yummy Recipes/
My Adopted Angels/ Beary Good Causes/ Missing Children/
Banner Exchange/ Beary nice Webrings/ Beary sweet Awards/

Special Thanks to
midi by Gendron Design Desk
Guestbook courtesy of

Thanks for stopping by, my Kitchen is always open!
(((Hugs)))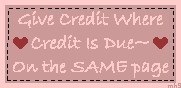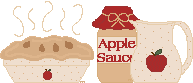 Click here to exchange banners with my owner


My Bear Den ~ A Beary Cozy Place Created by Sandi, February 2000